Isso é relevante apenas para utilizadores no Windows
Sumário:
Esse aviso é relevante para utilizadores do VLC 3.0.13 e VLC 2.0.12. Devido a um defeito introduzido no códico do atualizador automático, a atualização é baixada, verificada mas não é installada. Isto é mau e nós pedirmos desculpas por isso.
Instruções:
Para atualizar o VLC para a versão 3.0.14, é necessário the navigar para
https://www.videolan.org/vlc
e baixar e instalar o VLC manualmente.
Se você já executou a atualização automática que baixou a nóva versão do VLC, é possivel de iniciar a instalação manualmente: Abré o explorador do Windows (Tecla Windows + E ou clique no ícone do explorador) e navegue para
%TEMP%
. Você deve encontrar o programa the instalação aqui, nomeado vlc-3.0.14-win32.exe ou vlc-3.0.14-win64.exe respectivamente a versão de Windows de 32bit ou 64bit.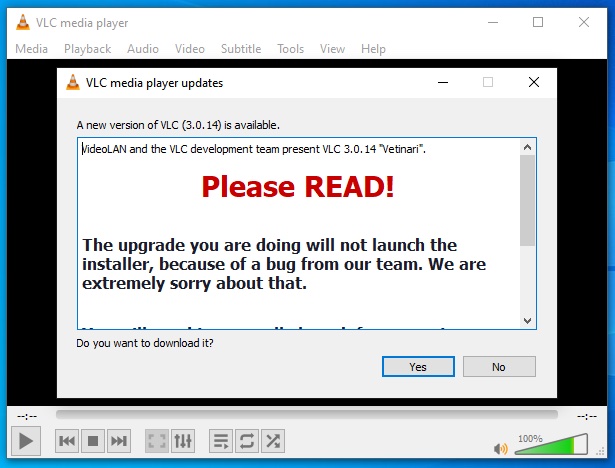 Explicação post mortem:
Em 10 de maio de 2021 a organização VideoLAN publicou a versão 3.0.13 do VLC e ativou a atualização automatica.
Isso normalmente é simples, uma janela iria aparecer com a informação sobre a nóva versão, você clique baixar e instalar e é isso.
Contudo e infelizmente, para essa atualização particular, alguns passos addiçionais serão necessários.
O problema é introduzido na versão 3.0.12, mas não se tornou óbvio até publicar a versão 3.0.13.
Enquanto o problema é resolvido na versão 3.0.14, não é possivel fiar-se nisso para usários que já instalaram a versão 3.0.12.
A mudança que introduzio o problema
A mudança que resolveu o problema